1/17/2019
Speaker of the House of Representatives Borjana Krišto met with the Ambassador of the Russian Federation to BiH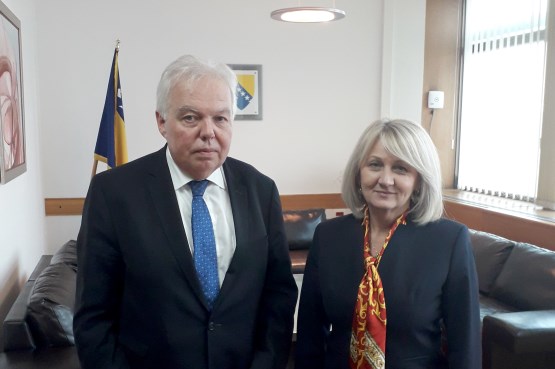 Speaker of the House of Representatives of the Parliamentary Assembly of BiH (PABiH), Borjana Krišto, met with the Ambassador of the Russian Federation to BiH, H.E. Peter Ivantsov.
Ambassador Ivantsov conveyed a congratulation letter to the Speaker Krišto from the President of the State Duma of the Federal Assembly of the Russian Federation on the occasion of her re-election to the Collegium of the House of Representatives of the PABiH. Speaker Krišto thanked for congratulations and expressed hope that the co-operation between two countries will be further improved in the future.
At the meeting, the political situation in Bosnia and Herzegovina as well as the necessary steps to be taken in order to constitutionally and lawfully establish the government after the October General Elections were discussed.
The interlocutors agreed that parliamentary cooperation between Bosnia and Herzegovina and the Russian Federation should be intensified after the constitution of both PABiH Houses. (End)
PRESS
CONTACT

Public relations department