2/22/2019
The 13th plenary session of the Parliamentary Assembly of the Mediterranean ended in Belgrade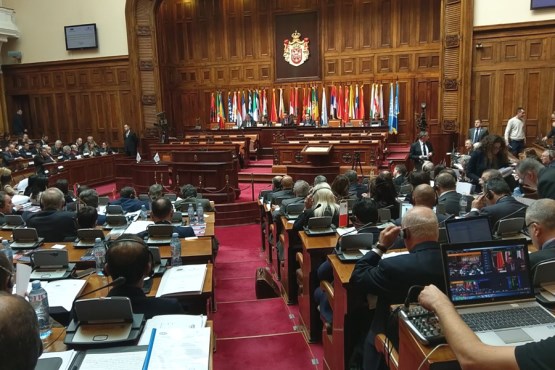 The 13th plenary session of the Parliamentary Assembly of the Mediterranean (PAM), which has been judged to be a first-class event of international importance and a testimony of the importance of parliamentary cooperation and dialogue, ended today in Belgrade.
During the session, hosted by the National Assembly of the Republic of Serbia, the parliamentarians from the Mediterranean countries of Europe, Africa and the Middle East discussed the challenges of migration, climate changes, and a number of issues related to the cooperation between the countries of the region with an objective to have a better economic relations as well as an economic growth and development.
Welcoming the participants of the 13th PAM Plenary Session, the Vice President of the National Assembly of the Republic of Serbia, Veroljub Arsić, emphasized that PAM has been working to strengthen dialogue since its foundation, and has, by numerous resolutions on the most current topics, confirmed the status of the strong organization facing contemporary challenges.
PAM President Pedro Roque said in his opening speech that there were many more global problems awaiting their solution, and praised the fact that PAM's activities had strengthened the partnership that has shown fruitful results, especially in the fight against terrorism.
PAM Secretary General Sergio Piazzi read a message to the audience from the United Nations Secretary General Antonio Guterres saying that the Mediterranean region faces many problems, from the terrorism to the climate changes, and called on all participants to be in solidarity and unity working on finding their solution.
During the two-day session, six resolutions were adopted addressing the problem of terrorism as a growing threat to the Euro-Mediterranean region, then climate changes challenges and the role of PAM in finding their solutions, the issue of implementation of the global agreement on migration in the Mediterranean region and the role of the parliamentarians in protecting the human rights of the migrants.
New PAM presidents have also been elected to serve in the next two years. This year, PAM will be chaired by Alia Buran from Jordan, and next year Kerim Dervis from Egypt will take over this post. A new composition of the PAM Bureau has also been elected.
The Parliamentary Assembly of Bosnia and Herzegovina (PSBiH) was represented at the session by the Deputy Speaker of the House of Peoples and the member of the PABiH Delegation to the PAM, Ognjen Tadić. (the end)
PRESS
CONTACT

Public relations department