9/14/2023
Members of the PABiH Delegation to PACE Sabina Ćudić and Branislav Borenović participated in Paris at the sessions of the Monitoring Committee and the Committee for Equality and Non-Discrimination of PACE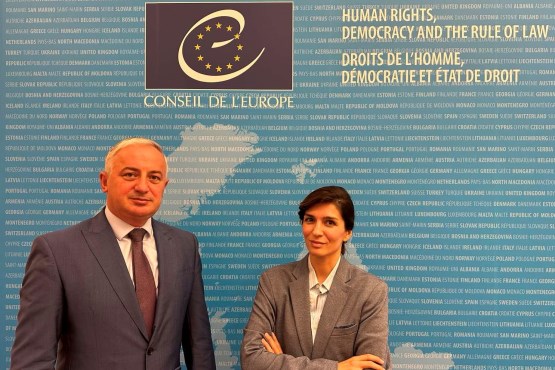 Member of the House of Representatives of the Parliamentary Assembly of Bosnia and Herzegovina (PABiH) and member of the Committee on Compliance and Engagement of Member States of the Council of Europe (Monitoring Committee) Sabina Ćudić and Member of the House of Representatives and member of the PABiH Delegation to the Parliamentary Assembly of the Council of Europe (PACE) Branislav Borenović participated in the session of the PACE Monitoring Committee in Paris, where it was also discussed about Bosnia and Herzegovina.
As the only member of the Monitoring Committee from Bosnia and Herzegovina, MP Ćudić presented data on recorded irregularities in the 2022 elections, and spoke about the need to adopt measures to protect the integrity of elections in Bosnia and Herzegovina.
MP Borenović, who participated in the part of the session of the Monitoring Committee that dealt with the events of the last General Elections in BiH, also emphasized the importance of changes to the Election Law of BiH with the aim of adopting an integrity package that would introduce the scanning of ballots, better identification of voters and improve the work of polling stations. committee as a key prerequisite to achieve serious and visible progress on the way to the full rule of law and more responsible policies in BiH. Borenović warned that due to, as he stated, enormous scale of election fraud, corruption that originates in such elections, unfortunately, still dominates in Bosnia and Herzegovina.
MP Ćudić also participates in the session of the Committee for Equality and Non-Discrimination of the PACE, where, among other things, the prevention and fight against violence against women is discussed. The protection of women defenders of human rights, as well as all those who defend women's rights in Europe, is also being discussed.
The members of the Committee are also considering candidature proposals for the PACE Vigdis award for women's empowerment.
At the two-day session of the Committee, racism and intolerance in Europe were discussed, as well as the role of women in the economy with special reference to employment, entrepreneurship and gender budgeting.
Committee members considered the work of the Parliamentary Network "Women's Right to Live without Violence", the Parliamentary Network "No Hate" and the Parliamentary Platform for the Rights of LGBTI Persons in Europe as well.
PACE president Tiny Kox also addressed the members at the Committee session. (End)
PRESS
CONTACT

Public relations department