12/6/2018
The eighth convocation of the House of Representatives of the BiH PA is constituted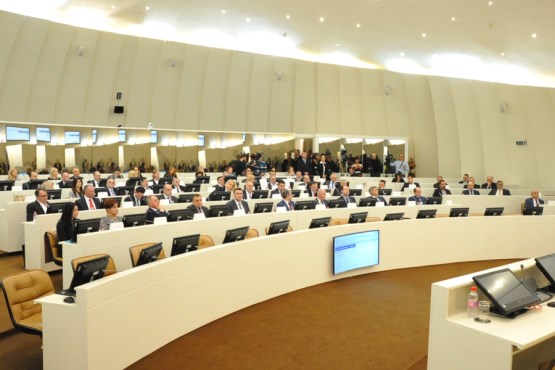 The eighth Convocation of the House of Representatives of the Parliamentary Assembly of Bosnia and Herzegovina (BiH PA) was constituted today in Sarajevo. The term of office of the new Convocation of the House of Representatives will run from 2018 to 2022. 
At the Inaugural Session, chaired in the first part by the eldest MP Nada Mladina, Borjana Krišto was elected Speaker of the House of Representatives of the BiH PA. Denis Zvizdić was elected as the First, and Nebojša Radmanović as the Second Deputy Speakers.
Halid Genjac, Staša Košarac, Predrag Kožul, Saša Magazinović, Dženan Đonlagić, Dragan Mektić, Edita Đapo, Predrag Kojović, Branislav Borenović, Aida Baručija, Mirsad Kukić, Jasmin Emrić, Nenad Nešić and Jakov Galić were the MP's elected to the Commission for the preparation of the election of the BiH Council of Ministers.
Before the beginning of the session, members of the Central Election Commission presented certificates of awarding mandates to the newly- elected deputies. Mandates have been assigned to the following MP's:
SDA - PARTY OF DEMOCRATIC ACTION
Denis Zvizdić
Šemsudin Mehmedović
Nermin Mandra
Safet Softić
Šemsudin Dedić
Edin Mušić
Halid Genjac
Alma Čolo
Adil Osmanović
SNSD - ALLIANCE OF INDEPENDENT SOCIAL DEMOCRATS
Nebojša Radmanović
Staša Košarac
Vojin Mitrović
Nenad Stevandić
Dragan Bogdanić
Snježana Novaković – Bursać
HDZ BiH, HSS, HKDU BiH, HSP-HNS, HSP, DR AS BiH, HDU BiH
Borjana Krišto
Predrag Kožul
Darijana Katić
Nikola Lovrinović
Mijo Matanović
SDP - SOCIAL DEMOCRATIC PARTY OF BOSNIA AND HERZEGOVINA
Enver Bijedić
Zukan Helez
Saša Magazinović
Nada Mladina
Nermin Nikšić
DEMOCRATIC FRONT - CIVIL ALLIANCE ŽELJKO KOMŠIĆ: BIH WIN!
Zlatan Begić
Dženan Đonlagić
Vlatko Glavaš
SERB DEMOCRATIC PARTY LIST (SDS LIST)
Obren Petrović
Dragan Mektić
Mirko Šarović
OUR PARTY
Predrag Kojović
Mirjana Marinković – Lepić
PARTY OF DEMOCRATIC PROGRESS – MLADEN IVANIĆ
Branislav Borenović
Mira Pekić
PARTY FOR A BETTER FUTURE - FAHRUDIN RADONČIĆ
A – SDA – FOR EUROPEAN BOSNIA AND HERZEGOVINA – TOGETHER
DNS - DEMOCRATIC PEOPLE'S ALLIANCE
INDEPENDENT BLOCK
PDA - THE MOVEMENT OF DEMOCRATIC ACTION
SOCIALIST PARTY
PRESS
CONTACT

Public relations department