9/13/2023
Deputy Speaker of the House of Representatives Dr. Denis Zvizdić received the Minister of Endowments and Islamic Affairs of the State of Qatar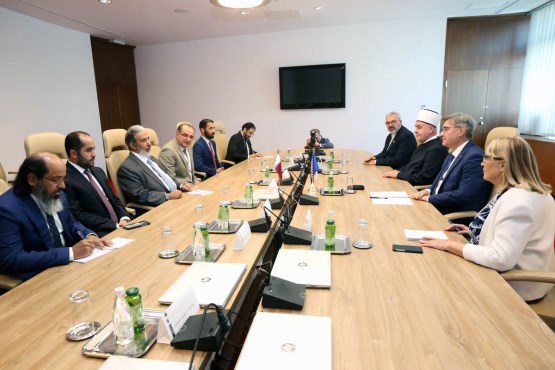 "Deputy Speaker of the House of Representatives of the Parliamentary Assembly of Bosnia and Herzegovina Dr. Denis Zvizdić received the Minister of Endowments and Islamic Affairs of the State of Qatar, Ghanem bin Shaheen bin Ghanem Al Ghanim, who is on an official visit to Bosnia and Herzegovina.
In the conversation between the Deputy Speaker Zvizdić and the Qatari Minister, mutual satisfaction was expressed with the development of bilateral relations and the need for good political relations to be accompanied by economic relations and investments.
The Deputy Speaker Zvizdić and Minister Al Ghanim agreed that there is an interest in enhancing co-operation in the fields of energy and energy transition, agriculture, tourism, health, education and science, culture and sport, but also that it is necessary to work on removing administrative barriers for Qatari investors in the coming period. They also agreed on the need to continue the work on the harmonization and conclusion of bilateral agreements, in particular those for which the procedure has already been opened.
The Deputy Speaker Zvizdić said that the establishment of the Friendship Fund between BiH and Qatar would enable better co-operation between the two countries and said that the development projects of small and medium enterprises in BiH would be financed from this fund, with special emphasis on young entrepreneurs with good business ideas.
At the end of the meeting, Deputy Speaker Zvizdić thanked the State of Qatar for everything they have done for Bosnia and Herzegovina in the past period.
The meeting was also attended by the Reis - ul - ulema of the Islamic Community of Bosnia and Herzegovina, Husein effendi Kavazović." (Statement from the Office of the Deputy Speaker of the House of Representatives, Dr. Denis Zvizdić)
PRESS
CONTACT

Public relations department