11/19/2018
Members of the Delegation of the Parliamentary Assembly of BiH in the NATO Parliamentary Assembly at the 64th annual session of NATO PA in Canada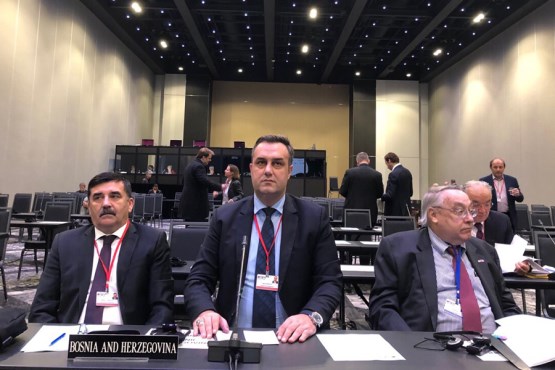 Chairman of the Delegation of the Parliamentary Assembly of Bosnia and Herzegovina (PABiH) to the NATO Parliamentary Assembly (NATO PA), Nikola Lovrinović, and the Member of the PABiH Delegation, Asim Sarajlić, participated in the 64th regular annual session of NATO PA, held in Halifax, Canada.
At its meeting prior to the plenary session, where numerous present day problems were discussed, NATO PA Political Committee debated the report on the state of security in the Western Balkans region.
Objections lodged by members of the PABiH Delegation in NATO PA were accepted during previous discussions on the Rapporteur's (the Canadian Ambassador Raynell Andreychuk) final document. The document notes that the region is moving forward, and suggests that dialogue between countries of the region, as well as regional and bilateral cooperation, have no alternative.  It emphasises that NATO PA will support efforts that lead to mutual understanding, strengthening of economic co-operation and to close open issues through dialogue, especially those that have burdened the countries of the region over the past three decades.
The three-day session also included discussions on energy infrastructure in the region of central and south-eastern Europe. There were particularly interesting discussions regarding the current state of transatlantic relations, the impact of China on the state of security in Northeast Asia, the security challenges of the situation in North Korea, and the situation in the Black Sea region.
The participants of the Annual Session were addressed by the Deputy Secretary General of NATO, Rose Gottemeller, as well as the Speaker of the Macedonian Parliament, Talat Xhaferi, who addressed the current situation in Macedonia, and requested support from representatives of NATO Member States for his country's path to NATO and the European Union.
At the 64th regular session of the NATO PA, a Member of the Delegation of the Parliament of the United Kingdom and Northern Ireland, Madeleine Moon, was elected as the new President of the NATO PA. (End)
PRESS
CONTACT

Public relations department